Okyo and Kongo-ji Temple
Brief description
Fukujusan, Kongo-ji Temple in Kameoka City belongs to the Rinzai Sect of Zen-Buddhism. The previous building was built in 1738, and its gate was built in 1781. The Temple also goes by the name Okyo-dera Temple because Okyo Maruyama, a famous Japanese painter in the Edo period stayed there and painted pictures on 56 sliding door partitions. Okyo, a son of a peasant, was born on May 1st , 1733 in the village of Ana-o near the temple. He took delight in painting from his childhood. He first mastered the Western technique of perspective and shading and founded the Maruyama school, which focused on Shaseiga (art based on real life and nature). His paintings show accurate depictions of nature combined with traditional Japanese simplicity, and they were popular not only among the populace but also the nobility. When he was 56 years old, in 1788, he painted for the repose of the souls of his ancestors, especially for his parents, 31 sliding door pictures on partitions with waves, 12 with Taoist immortals, and 13 with landscapes in the main hall of Kongo-ji Temple. Now they are all registered as Japan's Important Cultural Property. He died at the age of 63 years old in 1795.
*Admission to the temple is free however.
*We would appreciate any small donation to help with the maintenance of this temple.
Temple view
Outside scenery.
Inside the main hall.
Okyo's work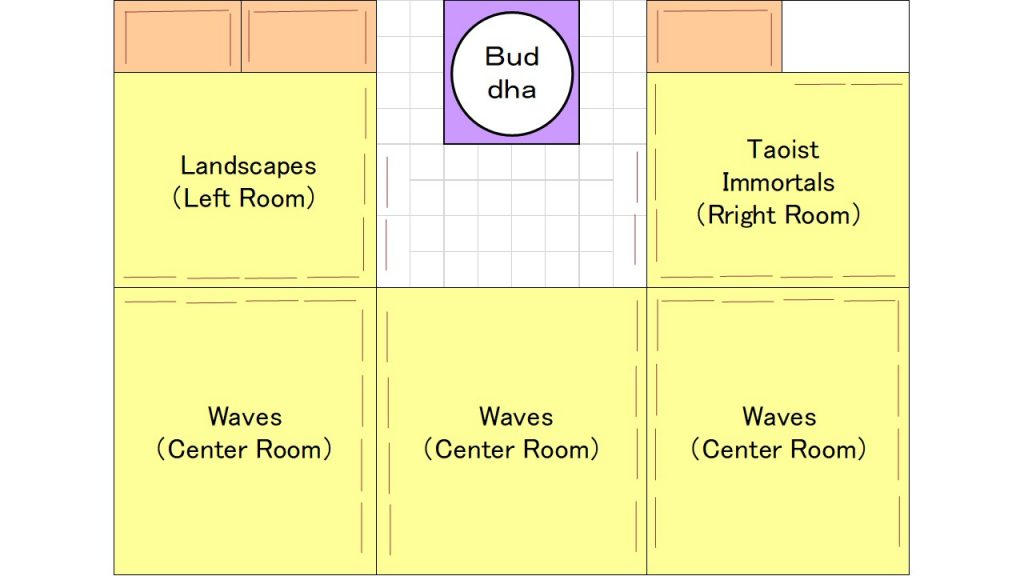 Waves
ln the center rooms of the main hall, almost all of the panels are filled completely with waves, except for three cranes and a few rocks.
The movement of the swelling, voluminous waves that cross different panels gives off a feeling of overwhelming power. The best view of these panels is from where the Buddha statue is placed.  To view click here
Taoist Immortals
Traditional Taoist immortals are painted on the sliding door partitions in the room on the right of the main hall. Okyo painted detailed depictions of human figures to catch the distinct characteristics and features of each person, and this picture shows some of his typical depictions. His brushwork is very skillful, and the Taoist immortals have both a secular and noble atmosphere.  To view click here
Landscapes
These panels were painted on the sliding doors in the room on the left side of the main hall.
This work was influenced by the perspective technique he developed in his mid-twenties.
In this painting, Okyo uses the empty space to show distance.
This style was not used in Japanese art prior to Okyo's masterpieces.
Okyo stamped and signed this work with his personal seal and signature.    To view click here
Contact Information
Kongo-ji Temple
〒621-0029  43 Miyagaichi Anao Sogabecho Kameoka Kyoto Japan
℡0771-22-2871  http://www.kongouji.net/